Laser Dentistry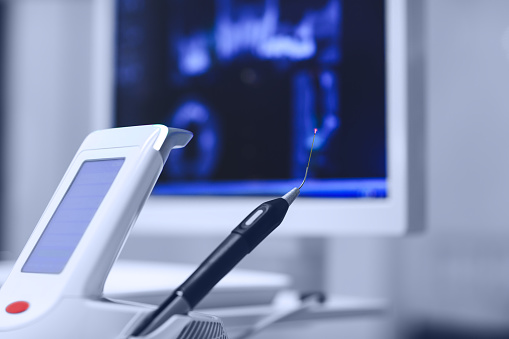 Laser dentistry is one of the newest ways that we can work on teeth, gums, and other structures of the mouth. Thirty-five years ago, laser dentistry was practically unheard of. No one was using lasers for anything outside of the science labs. Today, however, lasers are increasingly used in all different kinds of medicine. We are really excited about the use of lasers in dentistry, because they make our jobs easier, and allow us to do procedures on patients with fewer sutures, bleeding and pain. Give Christensen Family Dentistry a minute to talk to you about laser dentistry.


What Are Lasers?

Lasers are amplified light. Rather than light being diffused, the way sunlight is, lasers concentrate the light into a narrow beam. Lasers were created in 1960, but it has only been in the last couple of decades that lasers have been seen as useful in medicine.

In the past, in order to perform surgery, surgeons had to cut into your body. This meant that your body was exposed to infection in the air. It also meant that you would have to get stitches or staples after the surgery was complete. However, with lasers, there is no incision at all. There is no need for sutures because lasers can cauterize a wound instantly. This makes medical procedures far less painful. Lasers also make surgery less expensive as well. Laser technology is a real benefit for the patient.


Lasers in Dentistry

Lasers have real application in dentistry as well. We use lasers for all sorts of procedures, and they are especially effective in soft tissues. For example, we use lasers instead of drills to clean out a cavity and get the tooth ready for a filling. Because lasers are highly concentrated, we can get the cavity out very quickly. Lasers also help to kill bacteria in the mouth as well, which means there is less chance of bacteria getting into the new hole where your cavity was before we can fill it.

We also use lasers to help treat gum disease. Lasers have been very effective at getting rid of bacteria along the gumline. This means that the patient experiences less pain and bleeding than they would with a traditional gum cleaning procedure when infection is present. Lasers are also used to treat tooth sensitivity so that patients don't experience pain when they eat or drink. We can use lasers to trim excessive gum tissue as well so that more of your tooth is showing.

There are so many ways we can use lasers in dental practice; we can't name them all! Laser dentistry is an exciting revolution in dental care. If you want more information about how we use lasers to make your dental procedures better, give Christensen Family Dentistry a call at (480) 964-2131 and let us talk to you about our amazing lasers! We think the use of lasers in dental practice has only just begun. Just think where we'll be with lasers in 10 years!